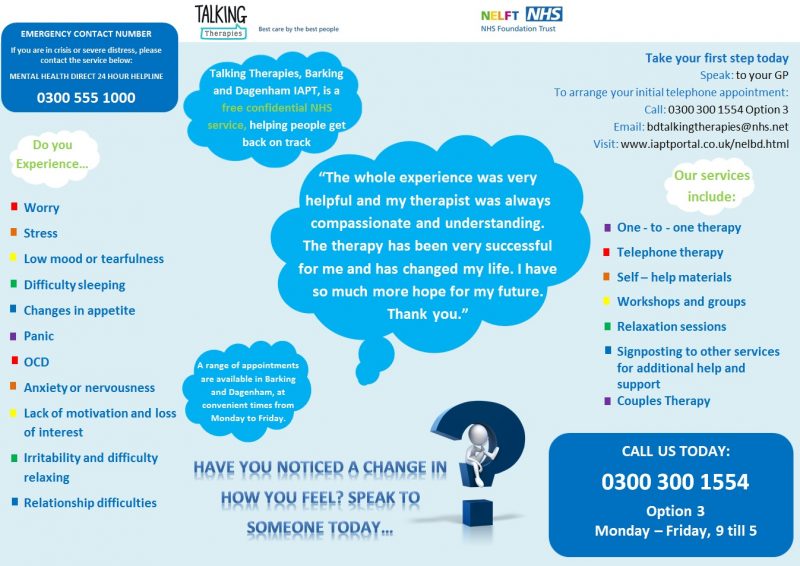 Barking and Dagenham Talking Therapies is a primary mental care service and working in collaboration with of Work and Skills (Job Shop, Vocational Support and The Adult College). Our service is open to all 18 years + users. To refer to us, please click or https://talkingtherapies.nelft.nhs.uk/.
Referral criteria for clients:
Aged 18 year old and over;
To be registered with a GP in Barking and Dagenham;
Not accessing mental health support from another service;
Can also have physical health difficulties.
At the moment we offer:
Video therapy appointments;
Telephone appointments;
Webinar/Online workshop for anxiety, stress, sleep difficulties, self-compassion and depression.
Mental health problems we are currently dealing with:
Depression
Generalised Anxiety disorder
Panic Disorder
Phobias
Obsessive Compulsive Disorder
Social Anxiety
Health Anxiety
Post-Traumatic Stress Disorder
Childhood trauma
Self Esteem
Stress
Sleep difficulties
We also have two wonderful additions to our service, such as a physical activities coordinator (to support with advice on nutrition and to organise individual exercise plans), as well as an employment advisor (to help clients in finding a job, as long as they are in treatment with Talking Therapies). 
For anybody who is interested in referring to us, please note that they can go to their GP or they can self-refer to us DIRECTLY by calling our office on 0300 300 1554 opt 3. They can also self-refer online using this link https://www.talkingtherapies.nelft.nhs.uk/barking-and-dagenham or b.link/BDCollege